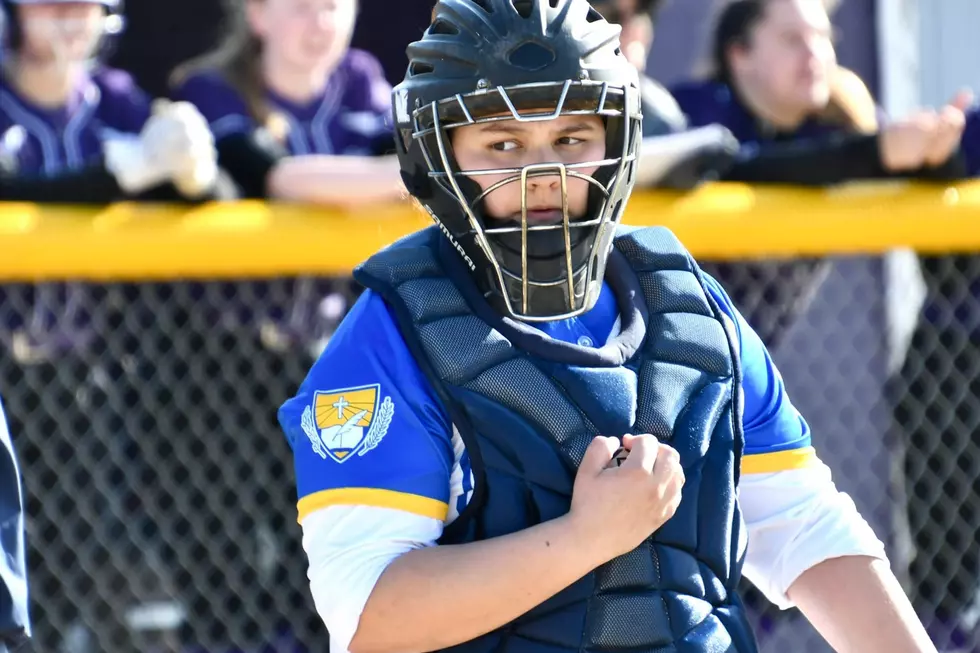 High School Sports Results Tuesday May 16
photo courtesy of Todd Dingmann
Softball:
Cathedral 8, Foley 0
(Ella Bell and Liz Bell each had 2 hits for the Crusaders).
Cathedral 20, Foley 3
(C.J. Jerzak went 4-4 with 4 RBIs and Tayla Vought went 3-5 with 5 RBIs for Cathedral.  Cathedral is 13-6 and finish the regular season tomorrow night at home against Albany).
Princeton 4, Sauk Rapids-Rice 0
Monticello 10, Sartell-St. Stephen 0 (5 innings)
(Danica Sarff allowed 2 earned runs in 1 inning and Marni Koosman allowed 8 earned runs in 4 innings.  Sartell had 5 hits).
Albany 5, Mora 0
Albany 11, Mora 5
Becker 5, Big Lake 0
Maple Lake 10, Royalton 2
Annandale 8, Dassel-Cokato 6
Annandale 3, Dassel-Cokato 2
Zimmerman 4, Little Falls 3
Melrose 12, LPGE 10
Glencoe-Silver Lake 9, Litchfield 7
Baseball:
Sartell-St. Stephen 5, Cambridge-Isanti 0
Cathedral 6, Albany 3
(Cathedral scored four runs in the top of the 7th inning to come from behind and beat Albany 6-3. Jackson Phillipp pitched six innings to earn the win. Trevor Fleege notched the save with a scoreless 7th inning. Cooper Kosiba drove in two runs and had two hits. Tanner Staller and Alex Schroeder each had two hits and Alex scored two runs for the Crusaders who are 9-3 and have a doubleheader at Zimmerman tomorrow).
St. Cloud 5, Willmar 4
Rocori 10, Alexandria 6
Sauk Rapids-Rice 5, Brainerd 2
Becker 11, Princeton 10
Foley 14, Holdingford 4
Milaca 5, Mora 2
Annandale 9, Dassel-Cokato 0
Annandale 4, Dassel-Cokato 0
Montevideo 5, Melrose 3
Eden Valley-Watkins 19, ACGC 0
Sauk Centre 6, BOLD 4
Royalton 15, Maple Lake 5
Girls Golf:
Cathedral finished 3rd in the conference event at Wapicada with a team score of 384. Megan Scepaniak and Cammy Sand each shot 94 to finished tied for 8th overall. Lexi Streit was 10th with a 95.
Boys Golf:
The Sartell-St. Stephen boys golf team won the CLC meet at Alexandria GC with a 6-over 294. Alexandria finished 2nd followed by Fergus Falls, Brainerd, Willmar, Sauk Rapids-Rice, St. Cloud and Rocori.  For Sartell Lance Hamak posted a school record and conference record with a 7-under 65. Other Sartell finishers include Sam Lunde (73), Carson Andel (76), Jack Schmitz (80), Isaac Bergstrom (81), and Drew Bollinger (83).
Boys and Girls Track and Field:
Cathedral boys and girls both finished 2nd at the Granite Ridge Conference Championships yesterday in Milaca. Athletes finishing 1st or 2nd in their event, on a 1st place relay team, or reaching one of the conference standards are All-Conference. They include: Hope Schueller and Erika Salaski in the 100, 200, and on the 4x200 relay team with Kayla Sexton and Maddie Halstrom; Liz Felix and Julia Vega in the 400 as well as the 4x400 team with Addie Mondloch and Cecelia Jamison; Clara Schad and Addie Mondloch in the 1600; Jacob Eickhoff in the 200, 400, and on the 4x400 team with Emanuel Kutzera, Henry Ebel, and Ben Fromelt; Griffen Ward in the 800; Henry Ebel in the 1600; Emanuel Kutzera in the 110 and 300 Hurdles; Blake Fleege in the Pole Vault; and Michael Phan in the Triple Jump. The Crusaders compete in the Sub-section Meet at Hinckley-Finlayson High School next Tuesday.
Girls Lacrosse:
St. Cloud 11, Becker 6
Come Visit Albany, MN With Us in Pictures
More From 1390 Granite City Sports