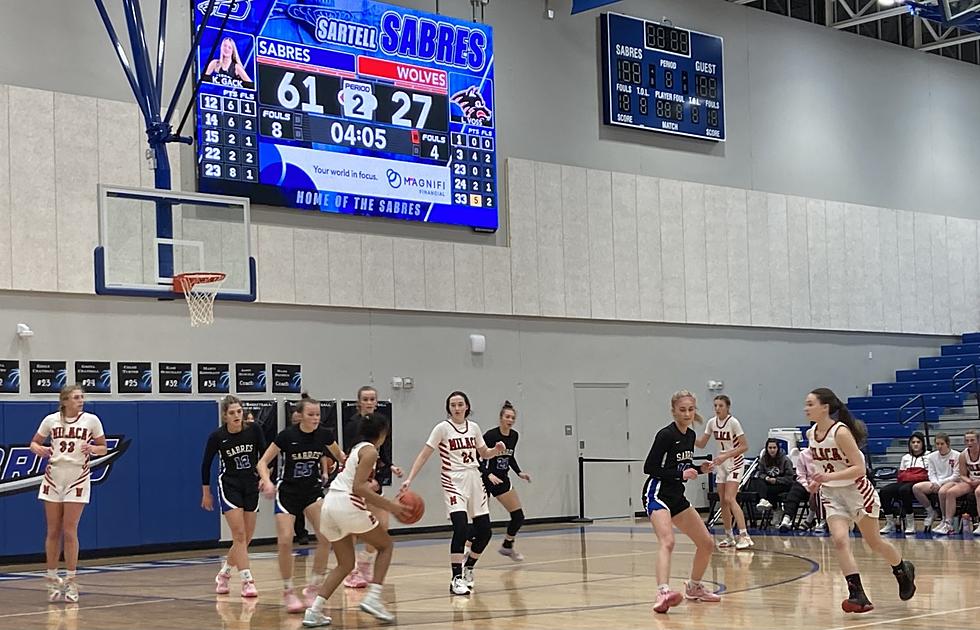 High School Sports Results Thursday February 16
photo - Dave Overlund
Girls Basketball:
Sartell-St. Stephen 65, Milaca 27
(Avery Templin scored 24 points for the Sabres)
Sauk Rapids-Rice 67, Rocori 39
(Grace Roesch led the Storm with 21 points).
Brainerd 54, St. Cloud 46
Annandale 53, Kimball 28
Eden Valley-Watkins 60, Dassel-Cokato 40
Montevideo 53, Melrose 43
Boys Basketball:
Brainerd 78, Rocori 62
Albany 75, Melrose 47
Kimball 66, Holdingford 46
Royalton 71, ACGC 49
LPGE 74, St. John's Prep 50
BBE 85, Maple Lake 35
Girls Hockey:
Section 6A Final @ Alexandria
Fergus Falls 2, River Lakes 1
(Abby Storm scored the lone River Lakes goal)
Boys Hockey:
Sartell-St. Stephen 6, Duluth Denfeld 2
St. Cloud 4, Fergus Falls 1
River Lakes 4, Sauk Rapids-Rice 1
Cathedral 3, Monticello 2
(Joey Gillespie had two goals including the game winner with just 3:37 to play. John Hirschfeld added a goal and Andrew Dwinnell assisted on all three goals. Nick Hansen stopped 23 of 25 shots for the win in goal.  The Crusaders will learn their post-season seed this mornng and start the playoffs on Tuesday, likely at the MAC).
Girls Nordic Skiing:
The St. Cloud Cathedral team finished 15th overall at the State Meet in Biwabik. The three Cathedral skiers finished in a pack with Emma Jamison coming in 82nd, Clara Schad 84th, and Addie Mondloch 89th.
Friday Schedule:
State Dance Competition - Jazz
Class A - Cathedral, Holdingford
Class AA - Sauk Rapids-Rice, Rocori
Class AAA - Sartell-St. Stephen
BHKY - St. Cloud Crush at Alexandria
GBB - Cathedral at Albany
BBB - Cathedral at Albany
BBB - Sauk Rapids-Rice at Fergus Falls
BBB - Alexandria at Apollo
MHKY - St. Cloud State at North Dakota, 7:00
MHKY - Gophers at Penn State
Jr Hockey - Minot Minotauros at St. Cloud Norsemen
Jr Hockey - Alexandria Blizzard at Granite City Lumberjacks
Rockville, Minnesota...in Pictures
More From 1390 Granite City Sports