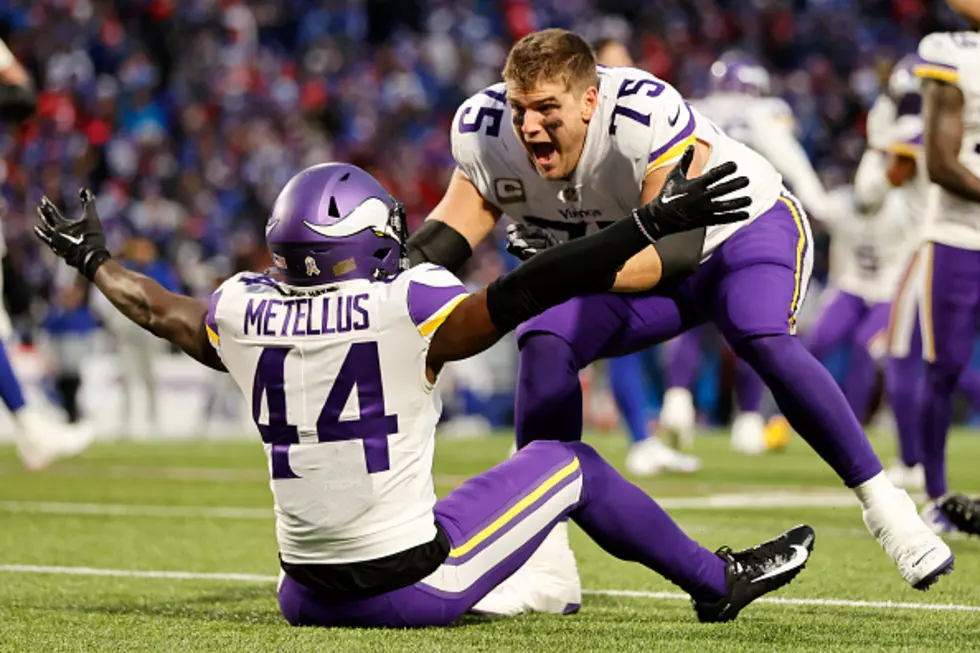 Souhan: The Vikings Biggest Challenges Heading into the Playoffs
Getty Images
The Vikings have clinched a playoff spot in the NFC and will be either the #3 seed or #2 seed.  The Vikings will be the #3 seed and play the Giants at home in the first round unless they win Sunday at Chicago and the 49ers lose to the Cardinals.  Star Tribune Sports Columnist Jim Souhan joined me on WJON.
Souhan says the loss to the Packers Sunday was bad but what's worse is the loss of right tackle Brian O'Neill to injury.  O'Neill suffered a calf injury in the first half of Sunday's game and initial reports indicate the injury is significant.  Souhan explains both O'Neill and 2nd string center Austin Schlottmann were injured in Sunday's game and will miss this Sunday's game at Chicago.  He also says starting center Garrett Bradbury will miss this week's game with a back injury.  Schlottmann is out for the year and both Bradbury and O'Neill are questionable to play when the Vikings host their first round playoff game in 2 weeks.  Souhan says he'd be surprised if O'Neill could play their first playoff game.  Backups who are expected to see time in place of Bradbury and O'Neill are Chris Reed at center and Olisaemeka Udoh at right tackle.  Souhan expects Reed to play better at center this weekend with a week of preparation but says center is not a position Reed is very familiar with.
Souhan indicates he expects the Vikings to play their healthy starters Sunday against the Bears.  The 49ers host the Cardinals Sunday at 3:25 p.m.  If you'd like to listen to my conversation with Jim Souhan it is available below.
Come Explore Royalton, Minnesota in Pictures
More From 1390 Granite City Sports