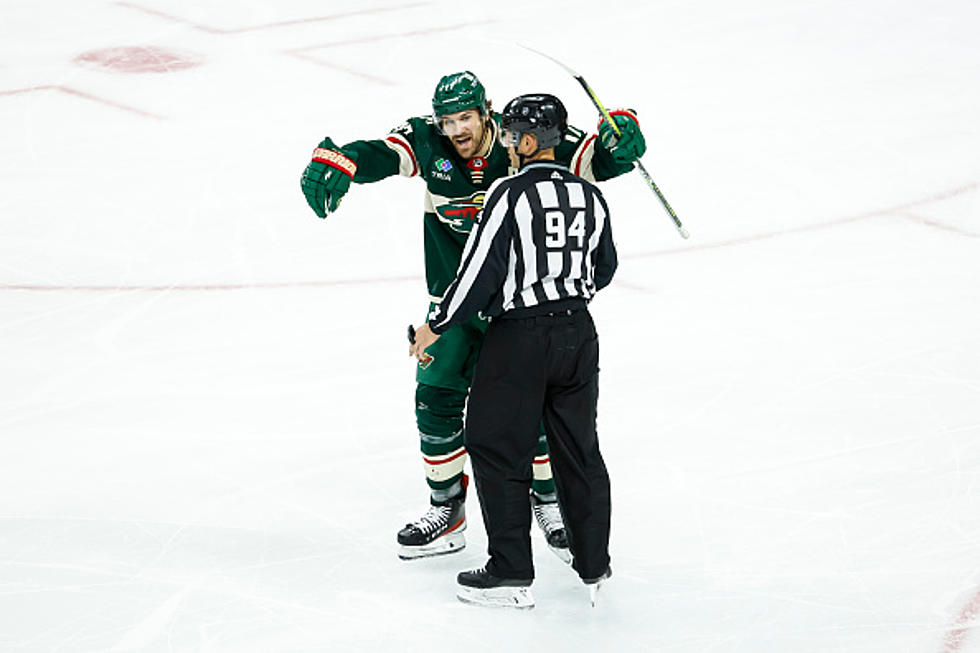 Souhan: Should Wild Fans Be Upset At The Officials?
Getty Images
The Minnesota Wild lost 3-2 in Game 4 of their first round playoff series at home against Dallas Sunday night.  Star Tribune Sports Columnist Jim Souhan joined me on WJON.  He says he doesn't think those were good calls against Marcus Foligno that led to a pair of Dallas power play goals.  Souhan also believes the Wild's best player Kirill Kaprizov  missed some chances on breakaways that could have made the Dallas goals scored on those power plays not as important.
Souhan says those were bad calls but bad calls are going to happen.  He says no one ever goes back and notices that their team had a couple of calls go their way too. Souhan believes the better team does win because the goal is to score more than the opponent so it doesn't matter how well the Wild played if they failed to outscore the Stars to win Game 4.    Souhan says the Wild have a chance to win the series but stopped short of saying he feels good about their chances heading into Game 5.   He believes if Dallas goaltender Jake Oettinger plays like he did in Game 4 the Stars will be tough to beat.
The Timberwolves stayed alive with an overtime win over Denver Sunday night.  Souhan says it was a crazy game but key made baskets by Anthony Edwards and Nickeil Alexander-Walker in overtime allowed the Wolves to get the win.  He wasn't sure the Wolves would come out with the fight necessary to take Game 4 but there was no lack of effort or toughness.  Souhan explains it will take the Wolves playing even better if they are to extend the series by winning Game 5 Tuesday night in Denver.
If you'd like to listen to my conversation with Jim Souhan it is available below.  Hear the Wild throughout the playoffs on AM 1390/93.9 FM Granite City Sports.  The Timberwolves game Tuesday will be joined in progress after the Twins on WJON.
HUMAN FOODS THAT ARE GOOD FOR YOUR DOG
More From 1390 Granite City Sports