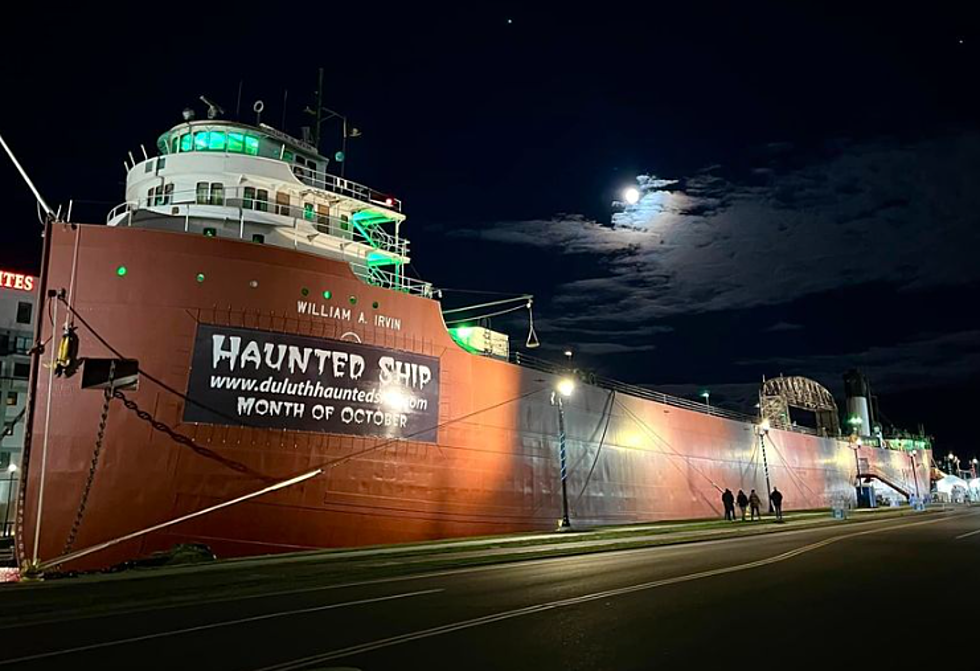 Haunted Ship Opens This Weekend with New Scare Elements
Haunted Ship Facebook page
Every year at Halloween, actually throughout the month of October, the William A Irvin museum ship in Duluth transforms into a Haunted Ship. Instead of haunted house, this is a haunted ship. Adds more of an element of scary.
I just think of watery ghosts and for some reason that is more scary than not being in the water.
The ship opens this coming weekend... actually on Thursday, the 5th. The tours, which are self-guided, by the way, will run on Thursdays, Fridays and Saturdays through October, and also on Halloween, of course.
There are some new things added this year.  According to Bring Me the News, these are the things that have been added.  But if you have never been to the haunted ship, then it will just be part of the "fun".
I don't like the idea of multiple possible exits.  Opening doors and wondering, as well as finding out, whats on the other side is completely freaky.  At least it is if it isn't actually an exit.
Starting in the engine room you will travel through the ship until you land in your final destination that is below the freezing waters of Lake Superior in the maze of terror. If you thought the rest of the ship was terrifying, just wait until you step down into the maze. While down in the pitch dark "dungeon" of the ship, not knowing where you're going is the least of your worries. Watch your back; you never know who'll be hovering over your shoulder.
Great, there's a maze too. Lovely.  Honestly, you go ahead and do this if you'd like.  I'm not too proud to say that it compeletely freaks me out. Nope.  But can't wait to hear all about it.  If you would like to purchase tickets, they come in a few levels of prices, and all available through the haunted ship website.  
VIP – $66.60 (COMING SOON!)

General Admission – $25.00

College Students w/ ID – $10.00 (available in-person at Box Office only)

FastPass (skip the line) – $30.00

Active Military Personnel – $10.00
Good luck!
LOOK: How Halloween has changed in the past 100 years
Stacker
compiled a list of ways that Halloween has changed over the last 100 years, from how we celebrate it on the day to the costumes we wear trick-or-treating. We've included events, inventions, and trends that changed the ways that Halloween was celebrated over time. Many of these traditions were phased out over time. But just like fake blood in a carpet, every bit of Halloween's history left an impression we can see traces of today.
Gallery Credit: Brit McGinnis
LOOK: 34 spooky dessert recipes for this Halloween
More From 1390 Granite City Sports