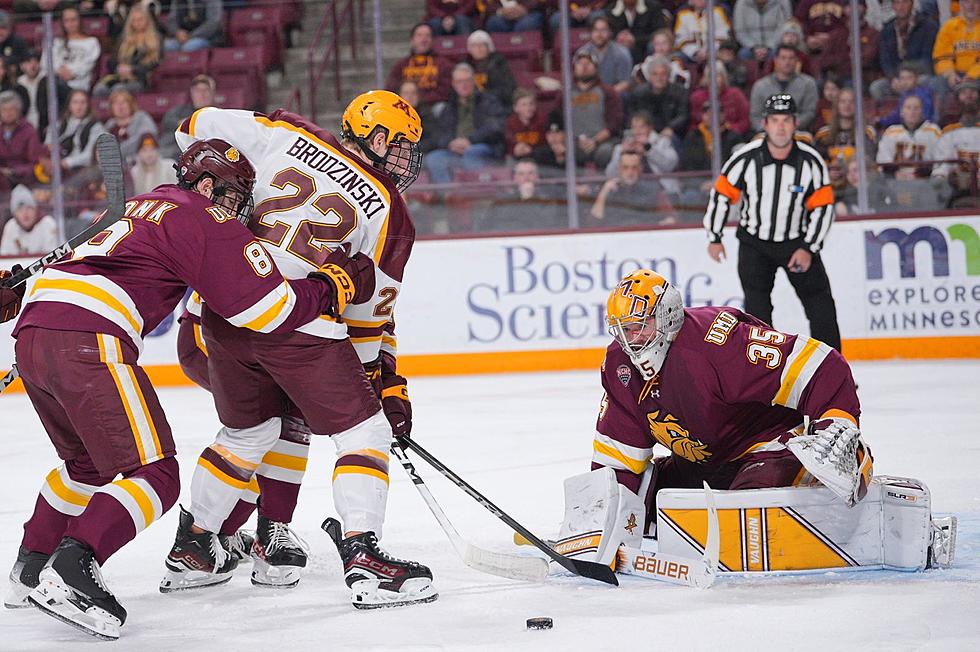 Gophers Roll Over UMD 5-1, and SCSU Edges Miami-Ohio
Brad Rempel, University of Minnesota
The No. 6  ranks University of Minnesota Golden Gophers had no problems with the University of Minnesota-Duluth beating the Bulldogs 5-1.  The Gophers got up by two in the first period and never looked back. They were led by two goals from Bryce Brodzinski, including the 50th of his career. They improve to 4-3 overall on the year and will take on UMD again Saturday night.
MEN'S COLLEGE HOCKEY:
--The Miettinen brothers both scored to help St. Cloud State beat Miami-Ohio Friday night. Senior Veeti Miettinen scored late in the second period to give the Huskies a 2-1 lead. After Miami would tie the game,  freshman Verner Miettinen scored his first career goal, and the game-winner, late in the third period to get SCSU the win. The two teams play again on Saturday at 6:00 p.m.
--St. John's lost to the No.10 ranked University of Wisconsin-Eau Clare 4-2. Eau Clare scored three unanswered goals in the third period to steal the win from the Johnnies who were up 2-1 at the time. Spencer Rudrud and Cooper Anderson had a goal each for St. John's.
WOMEN'S COLLEGE HOCKEY:
-- The Gophers were able to overcome an early deficit and come back to defeat Minnesota State-Mankato 3-1. Abbey Murphy, Nelli Laitinen, and Ava Lindsay scored for the U of M. Lucy Morgan made 33 saves in the win.
--No. 11 St. Cloud State could not topple the top-ranked University of Wisconsin and lost 4-2 to the Badgers. SCSU got goals from Alice Sauriol and Svenja Voigt in the loss. The two teams play again at 2:00 p.m. on Saturday.
VOLLEYBALL
--The College of St. Benedict fell to St. Olaf 3-0 Friday night (22-25, 21-25, 19-25). Paige Andries led the Bennies with 11 kills, and Emma Guest had 8.  St. Ben's record fell to 17-8 overall, and 9-2 in the conference. They will take on the University of Wisconsin-Stevens Point Saturday at 2:00 p.m.
--In their final home weekend of games St. Cloud State beat the University of Mary 3-0 (25-15, 25-10, 25-17). The Huskies were led again by Kenzie Foley with 24 kills, and Sam Zimmerman had 7 kills and 2 blocks. The Huskies are now 18-16 overall and an impressive 11-4 in conference play.
JUNIOR HOCKEY
--The St. Cloud Norsemen beat the Minnesota Wilderness 4-0 Friday night. They got goals from Hudson Blue, Andrew Cummings, and Tyler Dysart, who scored twice. The two teams will play again at 7:15 p.m. Saturday.
--The Granite City Lumberjacks lost a hard-fought game with the Mason City Toros Friday 5-4 in a shootout. The Lumberjacks were down 4-2 entering the third period but got goals from Caleb Alderson, and Sam Brennan to even it up and force overtime. Mason City however was able to win the shootout 2-0 to get the 5-4 win.
CHECK IT OUT: 100 sports records and the stories behind them
30 famous people you might not know were college athletes
Stacker
dug deep to find 30 celebrities who were previously college athletes. There are musicians, politicians, actors, writers, and reality TV stars. For some, an athletic career was a real, promising possibility that ultimately faded away due to injury or an alternate calling. Others scrapped their way onto a team and simply played for fun and the love of the sport. Read on to find out if your favorite actor, singer, or politician once sported a university jersey.
Gallery Credit: Sophia Crisafulli
LOOK: 25 fascinating vintage photos of the first Winter Olympic Games
The first-ever Winter Olympics were held in Chamonix, France, showcasing a variety of sports and athletes.
Stacker
assembled a collection of photos from those first Games.
Gallery Credit: Leesa Davis
More From 1390 Granite City Sports