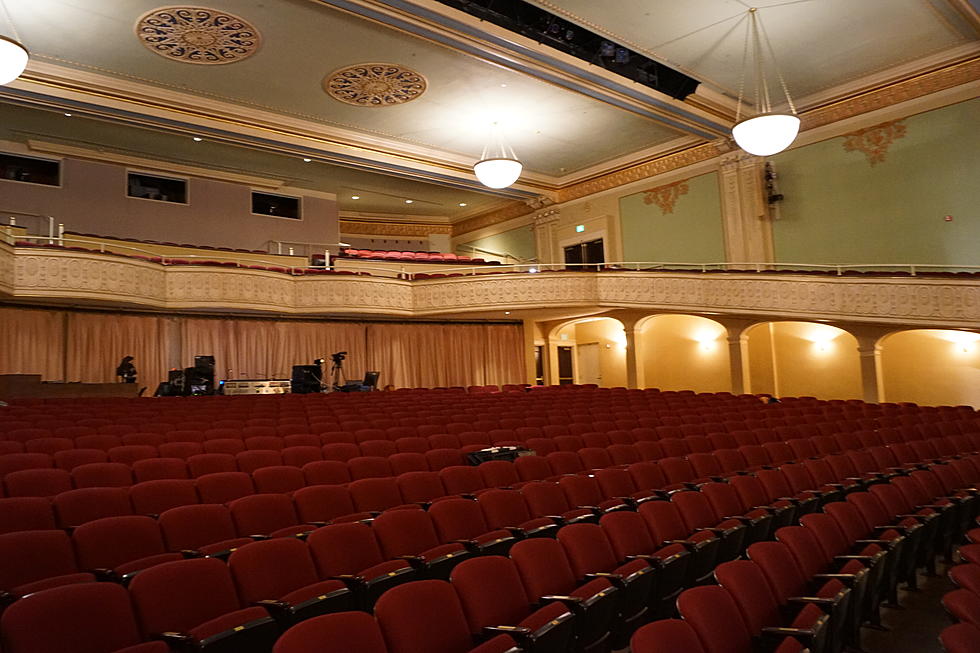 Explore Minnesota's Theaters This Fall/Winter
(Photo: Alex Svejkovsky, WJON)
Autumn turns to winter and that means many of us will spend more time indoors.  Jake Juliot from Explore Minnesota joined me on WJON to talk about theater options and shows available in the state over the next few months.
Minnesota has an incredibly strong performing arts community. Venues range from venerable institutions to community-oriented startups and summer stock theaters. At just about any time of the year, people can find noteworthy performances, including touring Broadway shows, locally written and produced dramas, concerts from regional and international musicians, modern and traditional dance routines, and standup routines from rising and reputable comedians. Here's an overview of essential live settings throughout the state, along with some key programming in the current and upcoming arts season.
St. Cloud
The Paramount Center for the Arts is a multidisciplinary community arts facility located in Historic Downtown St. Cloud, Minnesota.The renovated 800 seat historic Theatre (built in 1921) serves as a stage for rent by numerous community groups to perform as well as a venue for professional performances. The Paramount Center for Arts has great shows of all kinds clomg up. You can find wonderful holiday concerts from Shaun Johnson to Lori Line, to a range of wonderful plays and musicals. Coming Up Little Women OCTOBER 27, 2023 - NOVEMBER 5, 2023 Disney's Beauty and the Beast November 25, 2023 - December 10, 2023 Church Basement Ladies: Away in the Basement - December 27, 2023 - December 28, 2023
Minneapolis
THE GUTHRIE THEATER A world-class theater that's well-known across the country, the Guthrie is currently celebrating its 60th anniversary. It was originally part of the Walker Art Center complex but moved into its own building on the Mississippi River in 2006. Its dramatic Jean Nouvel design is worth visiting for its widescreen views of the river and Stone Arch Bridge, along with multiple theaters that allow the company latitude to stage a wide range of works, from classics to comedies to experimental theater. Coming Up: A Christmas Carol (November 11 – December 30), Ebenezer Scrooge greets each Christmas with "Bah! Humbug!" until he is visited by three spirits on Christmas Eve who challenge him to change his closedhearted ways. 'Art' (December 16, 2023 – January 28, 2024) - Brimming with intense and funny dialogue, this Tony Award-winning satire circles existential questions and regularly breaks the fourth wall to include the audience in the onstage musings. Dial M for Murder (January 20 - February 25, 2024), This clever, fast-paced adaptation adds extra layers to the iconic tale, making the "Will he get away with it?" question even more thrilling.
HENNEPIN THEATRE TRUST The Trust is comprised of three historic venues: the Orpheum, State, Pantages and Dudley Riggs theaters. Together, they showcase touring Broadway troupes, a wide range of musical acts, and sidesplitting comedy shows. Broadway Musicals at the Hennepin Theater Trust Company (November 14 - 19), the Stephen Sondheim classic gets reimagined with a woman in the lead role of Bobbi. Disney's Aladdin (December 5 - 10), From the producer of The Lion King comes the timeless story of Aladdin, a thrilling new production filled with unforgettable beauty, magic, comedy and breathtaking spectacle. Mrs. Doubtfire the Musical (December 19 – 24) Based on the beloved Robin Williams film and directed by four-time Tony Award® winner Jerry Zaks, Mrs. Doubtfire tells the hysterical and heartfelt story of an out-of-work actor who will do anything for his kids. Special Events Coming Up at the Hennepin Theater Trust Daniel Tiger's Neighborhood Live! King for a Day presented by Mills Entertainment (November 4th) - The grr-ific musical for little tigers and grown-ups alike is back! The hugely popular Daniel Tiger's Neighborhood LIVE!, based on the #1 PBS KIDS TV and Emmy Award- winning series that has delighted live audiences on stages across the country is back. Trevor Noah: Off the Record presented by Live Nation (November 8 -11) Trevor Noah is one of the most successful comedians in the world and was the host of the Emmy® Award-winning The Daily Show on Comedy Central for seven years. The Illusionists – Magic of the Holidays (November 17 – 19) Celebrate the holidays with the entire family at The Illusionists – Magic of the Holidays, a mind-blowing showcase featuring jaw-dropping talents of the most incredible illusionists on earth.
THE COWLES CENTER The Cowles Center focuses on dance in its myriad forms — everything from classical to international to modern. Coming up: Fall Forward Festival Celebrating nine different dance artists across three fantastic weekends Talents collide onstage as the diverse dance community showcases an assortment of genres across this momentous festival. Each weekend features a new roster and a variety of experiences from percussive footwork to physical feats to modern expressions and more! Oct 28 & 29 Ballet Folklorico Mexico Azteca*, STRONGmovement, and Yuki Tokuda Nov 4 & 5 Katha Dance Theatre*, Shapiro & Smith Dance, and Alternative Motion Project
THEATRE IN THE ROUND Minneapolis' longest-running theater has the unique attribute of having a stage in the middle of its main room surrounded by viewers. It is also one of the state's oldest community theaters, with a season that's split between classic and contemporary plays. Coming Up: She Kills Monsters (October 27 - November 5, 2023) - This high-octane dramatic comedy tells the story of high schooler Agnes Evans who is coming to terms with the death of her sister, Tilly. When she finds Tilly's D&D notebook, she embarks on an adventure into the imaginary world that was Tilly's refuge. This Co-Production features a cast entirely of performers from FAIR School for Art, a Minneapolis Public School. The Secret of Chimney Manor (November 17 to December 17, 2023), in this world premiere, Anthony Cade is hired to deliver a manuscript to a London publisher and – after being mistaken for a British agent – quickly becomes embroiled in a web of international intrigue involving blackmail, stolen letters, and a missing prince.
St. Paul
THE ORDWAY St. Paul's jewel of a performance space is beautifully located across from Rice Park and the St. Paul Hotel. It is home to the Minnesota Opera and hosts Broadway tours, concerts and dance performances. The third-quarter months are quieter for the theater as it pauses before beginning its robust late-fall season. Coming Up: Patti LuPone in Concert Don't Monkey With Broadway (November 19th) – Tony-award winning diva Pati LuPone takes the stage to showcase a wide arrange of showtunes and standards Peter Pan (December 6 – 31) This high-flying musical has been delighting audiences of all ages for close to 70 years, and is now being brought back to life in a new production directed by Emmy Award® winner Lonny Price with additional book by celebrated playwright Larissa FastHorse.
Duluth
DULUTH ENTERTAINMENT CONVENTION CENTER This beautiful convention center houses ballrooms and a concert hall that showcases the local symphony and touring Minnesota Ballet. Coming Up: Blippi the Musical (November 5). Blippi The Musical brings the energetic and loveable character Blippi off the screen and onto the stage with world-class production, audience engagement and amazing music. Multiple Duluth Superior Symphony Performances throughout November Mannheim Steamroller Christmas Tour (December 14) - A Grammy Award winner, Mannheim has sold more than 41 million albums, with over 31.5 million in the Christmas genre. Their holiday CD's have become synonymous with Christmas and occupy top positions on Billboard's Seasonal Chart every year.
Rochester
MAYO CIVIC CENTER The home of the Rochester Civic Theatre Company has both performance and exhibit spaces within its 120,000-square-foot space, a major stop for touring musicians and live events in Southern Minnesota.
Coming Up: The Fab Four Performs The Beatles' "Rubber Soul" (October 27), If you want to experience the best Beatles tribute ever, you won't want to miss The Fab Four-The Ultimate Tribute. The 2023 tour brings their all-new show to the stage, with a performance of The Beatles' "Rubber Soul" in its entirety, as well as the Beatles' greatest hits. TUSK - The Ultimate Fleetwood Mac Tribute (November 2) No fancy tricks, no gimmicks, just five musicians recreating the music of Fleetwood Mac to perfection with note for note renditions that no other Fleetwood Mac tribute on the touring scene today can come close to duplicating.
Come Visit Buckman, Minnesota in Pictures
More From 1390 Granite City Sports