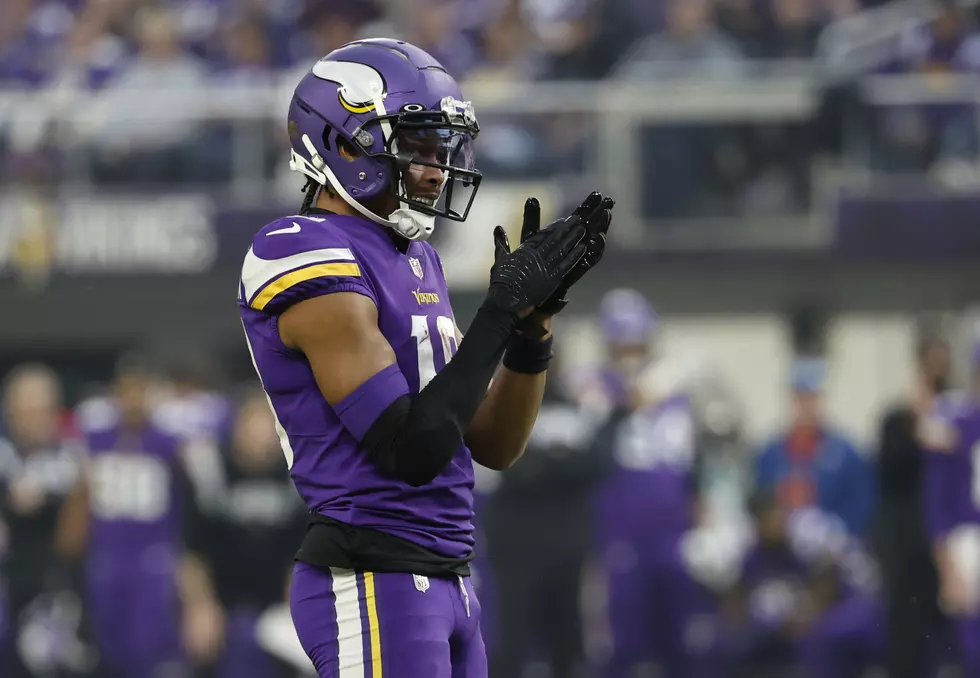 When Was the Last Time a Minnesota Vikings Player Won NFL MVP?
Photo by David Berding/Getty Images
There were many moments during the Vikings season that we thought Justin Jefferson is an MVP! Chants were even heard throughout the season, like here:
Justin Jefferson's f

or the 2022 season: 
128 Receptions (finished first) 1,809 Yards (finished first) 8 Touch Downs (why does it feel like more than that?) Beyond that he also broke Randy Moss's record for most receiving yards in a single season set by a Minnesota Viking. But he also broke Cris Carter's record for most receptions in a single season for a Viking. Carter previous set the record with 122 catches in a season back in 1994. Jefferson was even congratulated by Carter on the achievement via twitter like the classy person he is:  
So does it really surprise any Minnesota Vikings fan or any football fan for that matter that Justin Jefferson has been named an NFL MVP finalist for the 2022 season? As shared by the Vikings:
Jefferson was one of five finalists named for The Associated Press 2022 NFL Most Valuable Player award, the league announced on Wednesday.

 

The other four MVP finalists are all quarterbacks: Cincinnati's Joe Burrow, Kansas City's Patrick Mahomes, Philadelphia's Jalen Hurts and Buffalo's Josh Allen.

 
Lets point out the obvious right off the bat. He's up against QB's and it is very rare that a quarterback doesn't win the honor, but I'm just happy to see his name in the mix, as it should be.
Any idea though, the last time a different position other than a quarterback won the MVP? Fun fact: the last time the MVP was awarded to a non-quarterback player was back in 2012 and it was to a Minnesota Vikings player. Any clue? You guessed it, running back Adrian Peterson. That was also the last time a Minnesota Vikings player won the MVP award.
Wouldn't it be cool, ten years later, to have the MVP go to a different position other than a quarterback AND for it to be a Minnesota Vikings player again? Guess we will just have to wait and find out when the prestigious award is given to the winner on February 9.
LOOK: These Are the Richest NFL players
To uncover the richest NFL players,
Stacker
consulted
Celebrity Net Worth
and ranked them by their 2022 net worth, calculated using a proprietary formula.
Top 20 Minnesota Breweries From All Over the State
Top breweries in the Minnesota ranked according to Brewery Stars with representation from all over the state
ALSO: Former Minnesota Twins All-Star's Home for Sale - Complete With Brewery
Pictures from the 2023 World Snow Sculpting Championships In Stillwater Minnesota
The World Snow Sculpting Championships were held recently in Stillwater where teams from as far away as Mexico and Columbia competed against each other for a share of the top prize, medals, and the title of World's Best when it comes to snow sculpting.
.
More From 1390 Granite City Sports