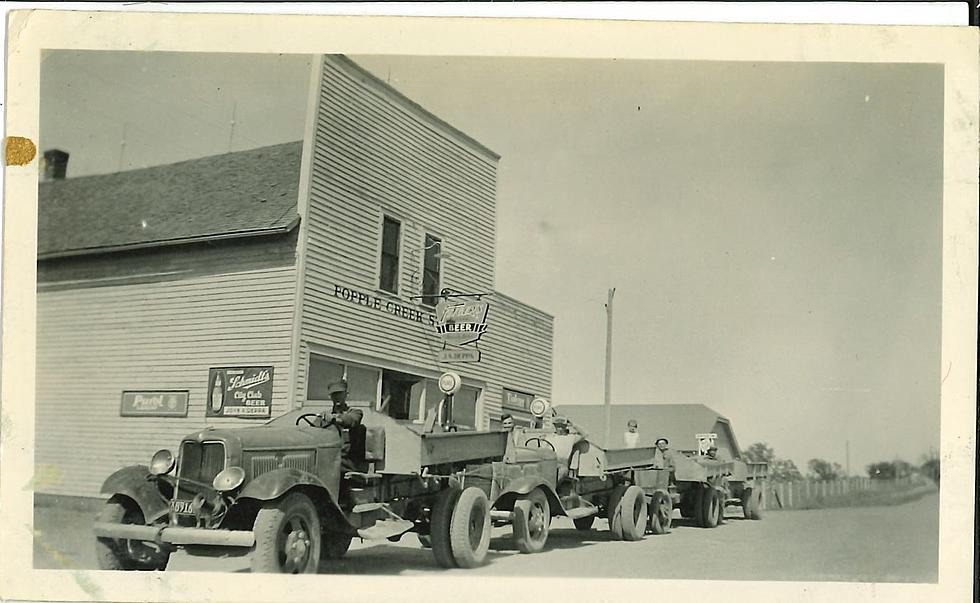 The Garden Spot of Benton County, Popple Creek
photo courtesy of Benton County Historical Society
Popple Creek is small community in Mayhew Lake Township in Benton County located along County Roads 3 and 4.  Popple Creek was never incorporated but was settled in the 1890s.  To help tell the story about Popple Creek I was joined by Benton County Historical Society Executive Director Mary Ostby and longtime Popple Creek area resident Lancy Studanski.
Ostby says the area was called Popple Creek until 1896 when Frederich Raether moved in and bought the Popple Creek store and established a post office.  He named the town "Raether".  Ostby says he owned the store for a few years before selling the store and leaving in 1903.  In 1903 the name of the town went back to Popple Creek.  Ostby says there was a little creek with poplar trees in the area which is why the town was called Popple Creek.  Studanski refers to the area as "the garden spot of Benton County" due to its location in the Elk River basin with great farm land.
What we know now as County Road 3 was the Gilmanton state aid road according to Ostby. It was one of the earliest roads in Benton County.  It ran from Sauk Rapids to Morrison County.  She says it was a logical place to have a store along that road due to the traffic.  The early settlers in the Popple Creek area were of Polish and German ancestry.  St. John's Lutheran Church has been a staple in the community and has been there for 127 years.  Studanski recalls in the early years of the church they had separate services in German and Polish because many of the early settlers didn't speak English.  He says the German and Polish settlers largely got along.
The Popple Creek store changed ownership many times.  It had supplies for the area farmers on the first level while the 2nd level was a dance hall.  Studanski recalls the store and dance hall being a gathering place.  He says at one time the store had slot machines.   Popple Creek also had a saw mill, a black smith, and a potato warehouse.  Ostby says those things don't exist anymore.  Popple Creek also had a 2 room school house.  The building still exists but has been converted to a house.  Studanski recalls going to grade school there before graduating from Foley High School.
Ostby says the Popple Creek store building we see today wasn't always facing the way it is now.  She says the building sustained a fire in 1909 and was rebuilt as a 2-story.  The store had groceries, farm supplies and eventually sold gas.  A 2nd church used to exist in Popple Creek.  The cemetery for that church is still there called the Pioneer cemetery.  Ostby says the 4H group maintains that cemetery.
A unique feature Popple Creek has is an airport.  The airport includes a hangar and runway.
If you'd like to listen to my conversations with Mary Ostby and Lancy Studanski it is available below.
Lancy Studanski
Mary Ostby
LOOK: Record Fish Caught in Minnesota
Stacker
compiled a list of fishing records in Minnesota from Land Big Fish.
Gallery Credit: Stacker
More From 1390 Granite City Sports