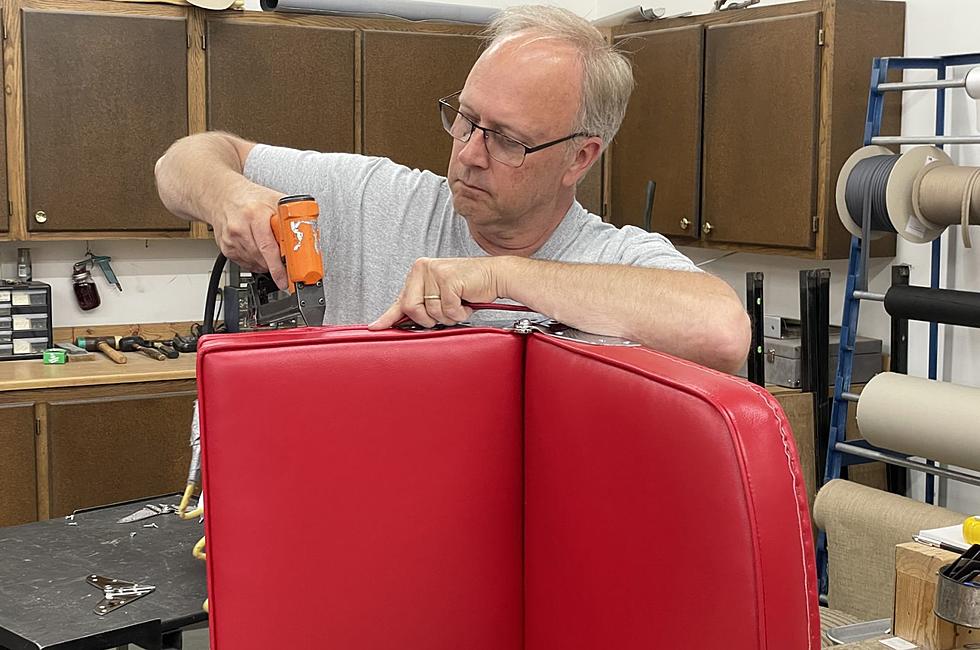 Sauk Rapids Upholstery Shop Going Strong for 105 Years
Rapids Upholstery, photo by WJON.com's Jim Maurice
SAUK RAPIDS (WJON News) -- The oldest upholstery shop in the state of Minnesota is still going strong in Sauk Rapids.
Rapids Upholstery started 105 years ago in 1918.
Co-owner Al Berndt is the third owner of the business.  His business partner and fellow co-owner is John Sprengeler. Sprengeler will eventually take over full ownership and is the fourth owner of the business.
They say with the recent news of the closing of Rapids Alterations there has been some confusion due to the similar names of the two businesses.  They say they are not going anywhere.
However, if you are looking to have a prom or wedding dress made, they are not your guys.
Berndt built the current building and they moved into the location at 515 North Benton Drive in 1997.
Besides the two co-owners, they have one other full-time employee, plus two part-time workers.
They say they do a wide variety of upholstery work from car, boat, and airplane interiors to custom furniture.  About 70 percent of their work is replacement and about 30 percent is new work.
Rapids Upholstery serves the area from the Becker/Big Lake area north up into central and northern Minnesota.
Both of the co-owners got into the business by working part-time in high school which evolved into eventually owning the business.  They say unfortunately upholstery work isn't being taught in trade schools much anymore and so it is a skill that younger people are not able to learn unless they get on-the-job training like their current employees.
They say they do get pretty backed up with orders, so if you have a job or a project that you want them to work on you do need to plan ahead and get on their schedule early.
READ RELATED ARTICLES
175 Years of Benton County History
More From 1390 Granite City Sports