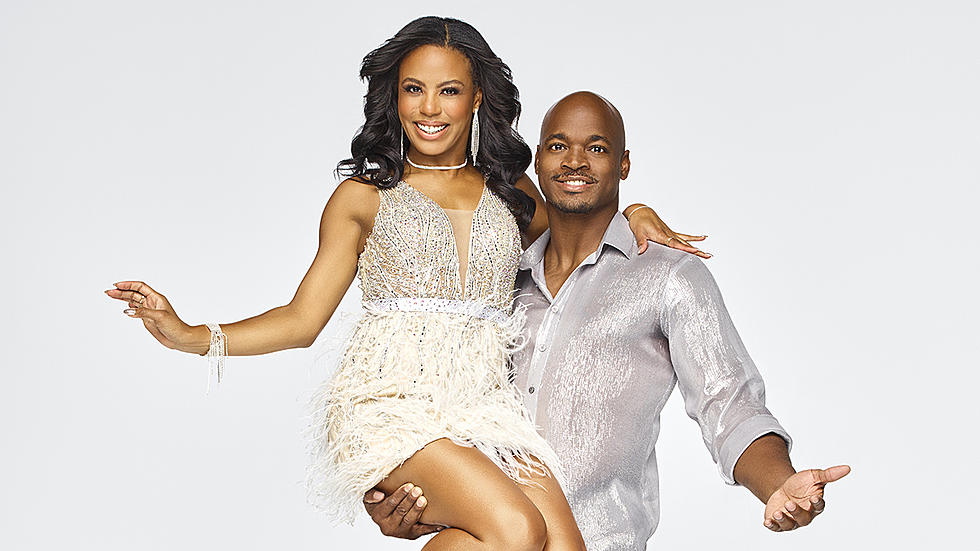 Former Minnesota Viking Vying for Mirror Ball Trophy
ABC/Andrew Eccles
There have been many people/celebities (sort of) that have competed on the competition show Dancing with the Stars.  Usually I think that the "celebrities" that they get are sort of B grade celebrities.  And every so often we get a sports celebrity.  And usually, I say usually, they do pretty well in the competition.
This time it's former Vikings running back Adrian Peterson.  He will be taking his turn around the dance floor vying for that "coveted" mirror ball trophy  I've often wondered what the winners of this show do with that thing.  In my opinion, it has to be one of the most obnoxious trophies ever given.
Here is the description they give for AP:
Adrian Peterson is a professional football running back who first played for the University of Oklahoma, where he set the freshman rushing record during the 2004 season, before going professional. He was drafted into the NFL by the Minnesota Vikings in 2007 and stayed with the team until 2016. Since then he has played for the New Orleans Saints, the Arizona Cardinals, the Washington Redskins (now the Washington Commanders), the Detroit Lions, the Tennessee Titans and the Seattle Seahawks. He holds the NFL record for most rushing yards in a game, which he set during his rookie season. The NFL named him the league's most valuable player in 2012.
Aside from that crazy trophy, it is still kind of fun to see how far these people who generally have never danced these ballroom dances do in the competition.  But it's also a popularity contests of sorts.  Because sometimes you will see someone do really well at the dance part, but with America's votes they end up in the bottom two or are eliminated from the competition even though they did well with their weekly dance.
A few years/seasons ago former Packer player Donald Driver won the mirror ball trophy.  I'm not sure that Adrian Peterson is as limber and agile as Driver is/was, but he might do alright.
Dancing with the Stars season begins on September 26th, which is a week from this coming Tuesday.  Alfonso Ribeiro and Julianne Hough will co-host.  You can watch it on ABC.
LOOK: 50 songs you won't believe are turning 50 this year
CHECK IT OUT: The Best Movie Character Names of the 1980s
More From 1390 Granite City Sports