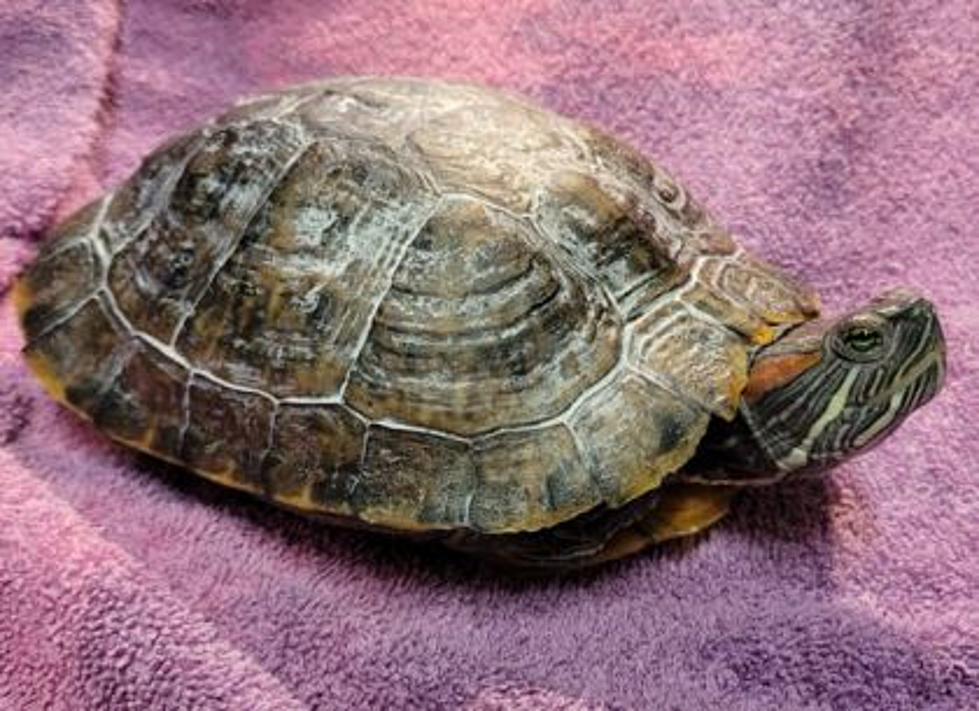 Shelly the Turtle Needs a New Home
TCHS
Meet Shelly! Shelly is a beautiful red-eared slider who was brought to TCHS after her owners were no longer able to care for her. She was adopted and later returned due to not getting along with other resident turtles. She needed some shell care and TLC upon arrival but this spunky gal is ready to find a home of her own!
Proper care and husbandry is extremely important to keep turtles happy and healthy. At her current size, Shelly will need a 40 gallon tank but may need upgraded sizes as she continues to grow. The tank should have enough water for her to swim with a platform where she is able to sit and bask under her light.
Shelly will need a docking area to allow her to get in and out of the water freely. She should have a full spectrum UV light and a basking light. Ideal temperature in the tank should be around 75 to 80 degrees with a basking spot at 85 to 95 degrees. A thermometer would be beneficial to watch tank temperature in both the air and water.
A water filter would be beneficial to include in her enclosure as well to help maintain clean water for her. If desired a substrate can be added to the bottom of the water tank such as rocks or gravel but be sure no rocks are small enough for her to eat. Red-eared sliders eat both animal protein and vegetables, including leafy greens, dried shrimp, krill, and crickets.
Shelly does not come with an enclosure so preparing ahead of time is recommended. Ask TCHS staff for more details or help answering questions!!  Donations and adoption fees help cover the cost of spay/neuter surgeries, micro-chipping, vaccinating, de-worming, any medical procedures and general care.
DEPOSITS MAY BE PLACED ON ADOPTABLE ANIMALS by calling 320-252-0896
The Tri-County Humane Society is an independent, nonprofit animal shelter in St. Cloud, MN, providing quality services to people and animals since 1974.
Visit Animals
Note: Shelter will be closed on Wed 4/12
Monday - Thursday:  12 - 6:00pm
Friday:  12 - 8:00pm
Saturday:  11am - 5:00pm
Sunday:  12 - 5:00pm
Shelter Store Opens Earlier
735 8th Street NE
St. Cloud, MN 56304
LOOK: Here are the pets banned in each state
Because the regulation of exotic animals is left to states, some organizations, including The Humane Society of the United States, advocate for federal, standardized legislation that would ban owning large cats, bears, primates, and large poisonous snakes as pets.
Read on to see which pets are banned in your home state, as well as across the nation.
LOOK: Stunning animal photos from around the world
From grazing Tibetan antelope to migrating monarch butterflies, these 50 photos of wildlife around the world capture the staggering grace of the animal kingdom. The forthcoming gallery runs sequentially from air to land to water, and focuses on birds, land mammals, aquatic life, and insects as they work in pairs or groups, or sometimes all on their own.
WATCH OUT: These are the deadliest animals in the world
More From 1390 Granite City Sports