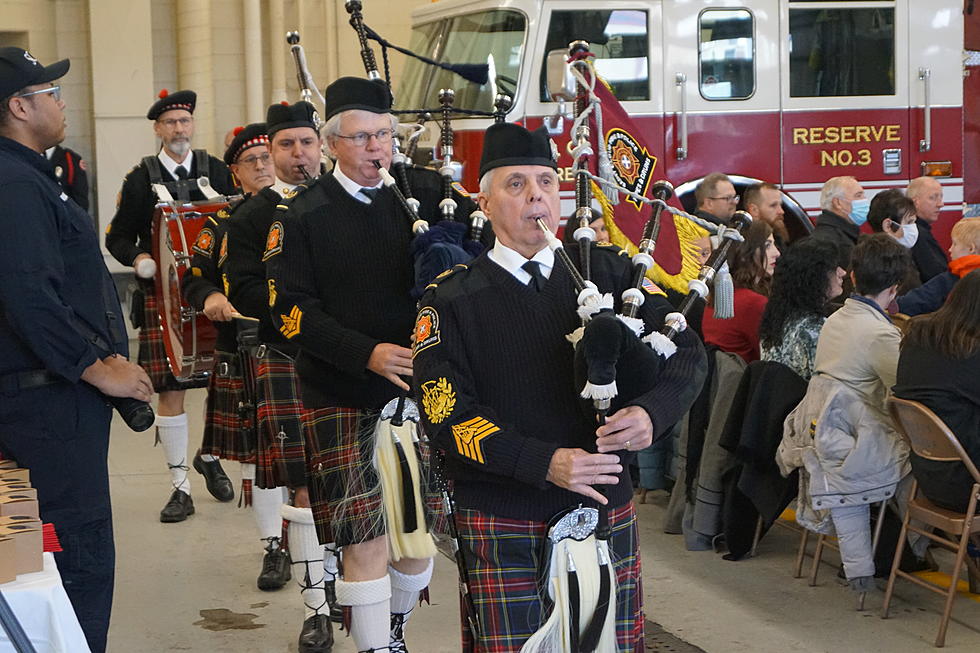 Pipes and Drums Band Making the Rounds on St. Patrick's Day
(Photo: Alex Svejkovsky, WJON)
UNDATED (WJON News) -- If you are out and about at a local pub this Friday you might run into a fun band. The St. Cloud Fire and Police Pipes and Drums will be making the rounds to celebrate St. Patrick's Day.
Bagpiper Joe Nadeau says they have eight pipers and four drummers in the band. He says Irish music lends itself well to the bagpipes.
Even though the instrument we're playing is considered the Great Highland bagpipe - or the Scottish bagpipe - they are absolutely associated with St. Patrick's Day.  There are a lot of amazing traditional Irish songs that just sound fabulous on the bagpipes like Danny Boy or When Irish Eyes are Smiling.
Nadeau says the band enjoys helping to put a smile on the faces of the crowd.
It really is exciting to walk into a room full of people and to have them be excited to hear you play.  That's the fun of the instrument and the fun of being in a band like this.  We take ourselves seriously from the standpoint of music, but we don't take ourselves seriously when we're out having fun.
The St. Cloud Fire and Police Pipes and Drums have been together for about 15 years now. They are always looking for new members and are willing to teach you how to play for free as long as you're a member of the band.
Their schedule for Friday is from 5:00 p.m. until 6:00 p.m. at O'Brien's Pub in Rice, from 6:30 p.m. until 7:00 p.m. at Jimmy's Pour House in Sauk Rapids, and from 7:30 p.m. until 8:00 p.m. at the Olde Brick House in St. Cloud. Nadeau says they may add a fourth stop as well.
The St. Cloud Fire and Police Pipes and Drums are in the process of changing their name to Central Minnesota Pipes and Drums because their band members come from a number of communities.
READ RELATED ARTICLES
More From 1390 Granite City Sports