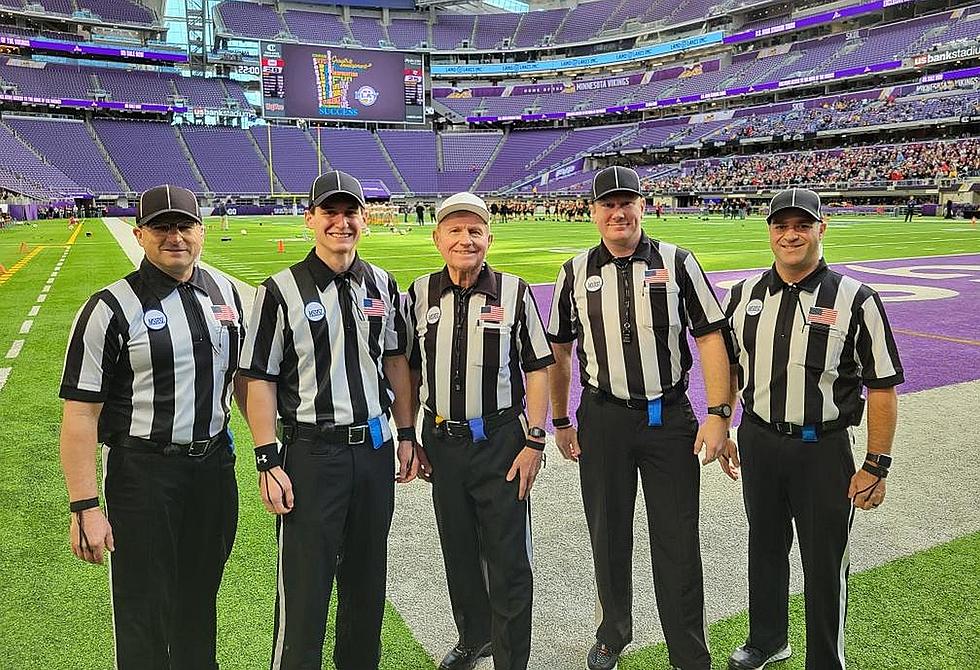 6 Decades Later 80-Year-Old St. Cloud Ref Still Has Full Schedule
Scott Lange, Brandon Kruse, John Lieser, Matt Theis & Jeff Wollak
ST. CLOUD (WJON News) -- John Lieser recently celebrated his birthday the way a lot of guys do, having a couple of beers with colleagues after work.
But this wasn't just any birthday for Lieser, he celebrated his 80th birthday and his office was a high school football field.
His birthday was September 21st and after a recent game in Becker, his crew took him out to a local pub where he was greeted by over 50 officials.
He's been the football assignor for the St. Cloud Officials Association for 25 years.
The St. Cloud man has been officiating football games for 60 years now, and basketball games for 63 years.
He says he has no idea how many thousands of games he's worked over those years but he says he did start logging every game with the final score since the 1970s. He's worked everything from junior varsity to high school, to college games.
He says he keeps working because he still has a passion for it.
I've always had a passion for officiating.  I've always tried to get better.  You always have to have the process of becoming you never arrive, once you arrive you only regress.  So I'm always trying to learn something and trying to teach people something that I've learned.
Lieser also does crossword puzzles every day to keep his mind as sharp as his body.
He says the biggest difference in officiating now from when he first started is that sports are much faster than they used to be.
One of the most exciting games he's ever been a part of was that last-second miracle win for New London-Spicer against Dilworth-Glyndo-Felton last year for the Class AAA football championship at U.S. Bank Stadium. NL-S won the game 27-26.
Just because he's now an octogenarian that doesn't mean he's slowing down either his schedule for just this week includes a JV game in Sartell on Monday, another JV game in Kimball on Tuesday, and not one but two varsity games on Wednesday with the first one in Melrose in the afternoon and a second one in Paynesville during the evening. He'll wrap up the week with a trip up to the Iron Range for a college football playoff game on Sunday.
He's already looking forward to a full basketball schedule this winter.
He says he's not planning on retiring anytime soon.
READ RELATED ARTICLES
States with the most registered hunters
Stacker
analyzed data from the U.S. Fish and Wildlife Service to determine which states have the most registered hunters. Read on to see how your state ranks on Stacker's list.
Gallery Credit: Meagan Drillinger
More From 1390 Granite City Sports