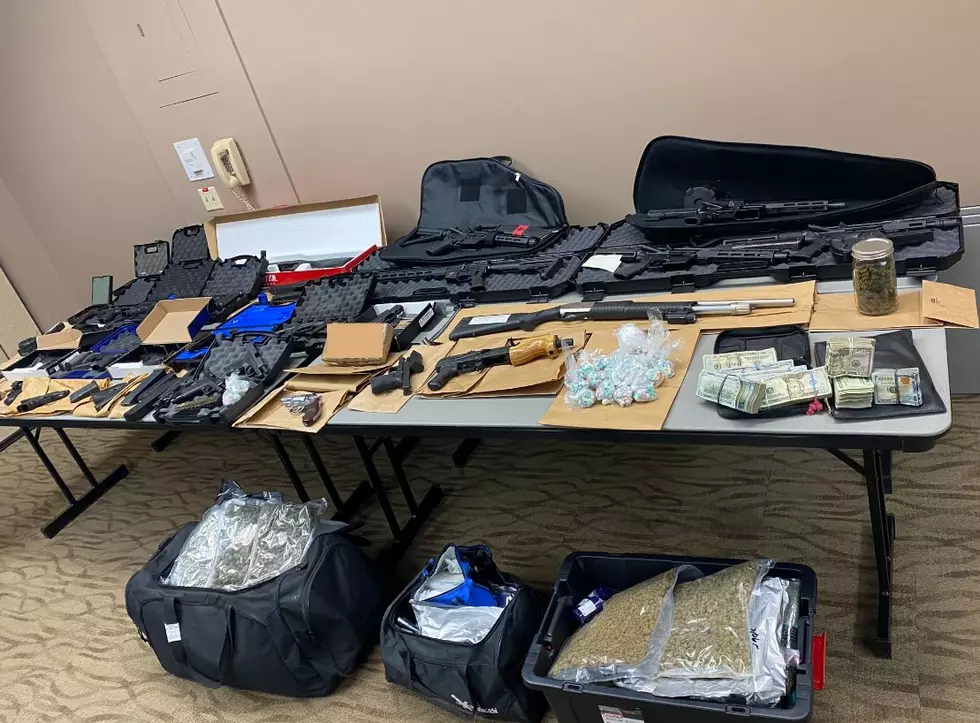 What Do We Have Here? Recent Minnesota Bust Nets 31 Guns & Lots Of Drugs
Image Credit: Minnesota Bureau of Criminal Apprehension via Facebook
To quote my favorite television detective, Joe Kenda, "my, my, my" what did Minnesota officers find in a St. Paul home after an earlier traffic stop in Minneapolis? Well, the answer to that is guns, 31 to be exact, and a whole lot of drugs. Nice work law enforcement!
According to a Minnesota Bureau of Criminal Apprehension post:
A traffic stop yesterday in partnership with Minneapolis Police Department and the Hennepin County Sheriff's Office led to the discovery of guns and drugs. Our agents then went to the suspect's home in St. Paul where they found more contraband. Between the two scenes, agents seized 31 guns along with a variety of drugs and lots of cash. The suspect is now facing charges in Hennepin County.
Partnerships with law enforcement agencies around the state allow us to follow the evidence across jurisdictions, taking more criminals, weapons, and dangerous drugs off the streets. We're grateful for everyone's work to keep Minnesotans safe!
The bust must have been one of the biggest to have happened in a while as the Minneapolis Police Department was posting about it, before the Minnesota Bureau of Criminal Apprehension posted about the bust.
It's unclear as to what the street value of the drugs taken was worth, or how much cash was taken in the traffic stop and subsequent search of a home stemming from that initial traffic stop.
I for one am glad to see the drugs and guns off the streets, hopefully, 2023 is the year people start to feel a little safer again.
So Long! Minnesota's Ugliest Car Just Got Drove Off To Michigan
Alex Wayne recently bought a mash-up of a Minnesota vehicle. It's a Mini Cooper frame with a Chevy Express van skeleton on top. This vehicle definitely turns some heads as it goes by, but it was supposed to do that.
Ghost Towns of Benton County
More From 1390 Granite City Sports