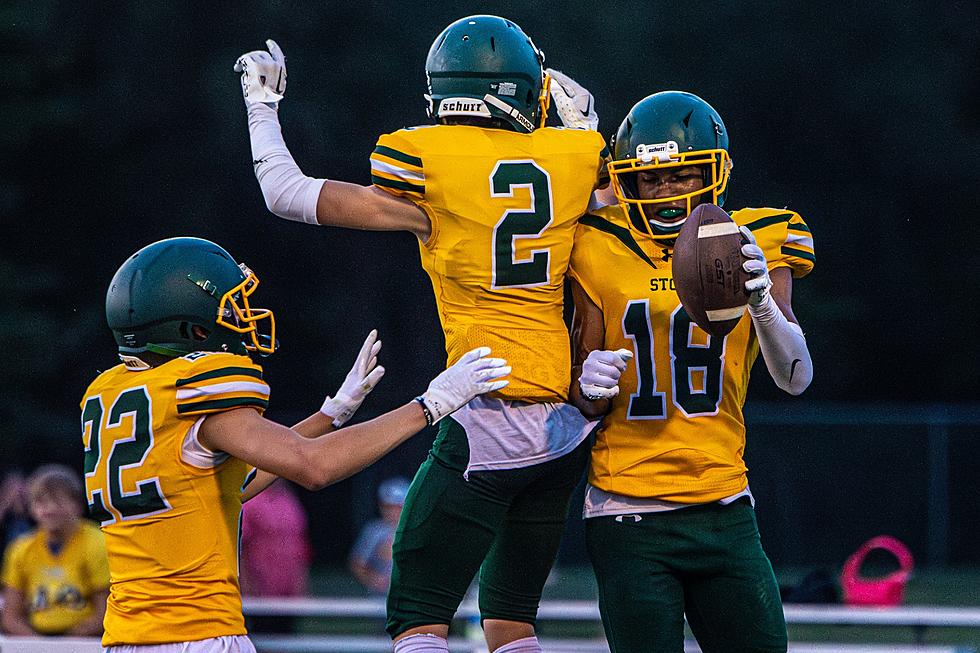 Week Two High School Football Preview: Sauk Rapids-Rice Visits Sartell-St. Stephen
photo - Andrew Ritter
The Sauk Rapids-Rice Storm will head across town to take on rival Sartell-St. Stephen Friday night. The game can be heard on AM 1390 and FM 93.9 Granite City Sports.
The Storm took down Irondale last week in Sauk Rapids by a 22-19 final score. Junior wideout Hudson Omoke had a huge day with 12 catches for 249 yards and a pair of touchdown catches that were thrown by quarterback Spencer Ackerman, who finished 23-31 for 365 yards with three touchdowns and no turnovers.
The Sabres suffered a tough loss at Rogers by a 45-0 final score.
Friday's game kicks off a 7 p.m. on AM 1390 and FM 93.9 Granite City Sports.
ELSEWHERE:
(All games 7 p.m. start time unless otherwise noted)
ROCORI (0-1) @ MINNEAPOLIS NORTH (1-0) *6 PM 
The Spartans fell 27-24 to Section 8AAAA rival Detroit Lakes in Cold Spring. This week they will travel to the Twin Cities to take on AAA Minneapolis North, who topped AAAA Holy Angels 41-14 last week.
ST. CLOUD TECH (0-1) @ BLOOMINGTON JEFFERSON (0-1)
The Tigers head to the home of the Mall of America when they play at Bloomington Jefferson Friday night. Tech was shutout 28-0 at home by Cambridge-Isanti last week, while Bloomington Jefferson was shutout 17-0 at New Prague.
EDEN VALLEY-WATKINS (1-0) @ CATHEDRAL (0-1) (@ SJU)
The Eden Valley-Watkins Eagles posted a convincing 50-14 win at home against Melrose in week one, while Cathedral lost a 24-22 heartbreaker at Warroad.
ALBANY (0-1)  @ MELROSE (0-1)
The Albany Huskies were defeated 48-20 by New London-Spicer at home. Melrose suffered a 50-14 loss at Eden Valley-Watkins in week one.
PROVIDENCE ACADEMY (1-0) @ BECKER (1-0) 
Providence Academy snuck past Breck 14-13 at home last week, while Becker topped Hill Murray 40-14 on the road.
NEW LONDON-SPICER (1-0) @ FOLEY (1-0) 
New London-Spicer is coming off of a 48-20 win at Albany. Foley snuck past Brooklyn Center 48-0 on the road.
LITCHFIELD (0-1) @ ST. CLOUD APOLLO (0-1) 
Litchfield fell 21-13 at Annandale last week, while Apollo lost a tight game to Chisago Lakes by a 44-38 final score.
HOLDINGFORD (1-0) @ ROYALTON (0-1)
The Huskers picked up a 28-16 win at home against Sauk Centre in week one, while Royalton fell 42-24 at Rockford.
Come Visit St. Martin, Minnesota with us in Pictures
More From 1390 Granite City Sports