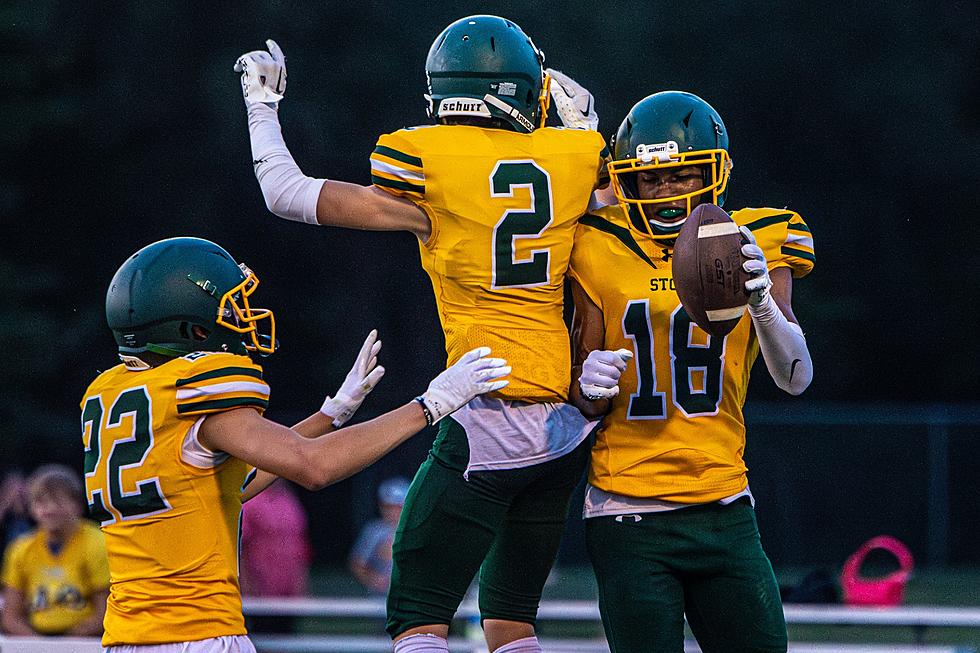 Sauk Rapids-Rice Picks Up Win In Roller Coaster Game Against Moorhead
photo - Andrew Ritter
The Sauk Rapids-Rice Storm traded punches with the Moorhead Spuds and emerged with a 35-28 win Wednesday night in Sauk Rapids. The Storm finish the regular season 7-1 and will likely be the #2 seed in Section 7AAAAA.
Hudson Omoke's 34 yard touchdown reception from Spencer Ackerman in the first quarter gave the Storm a 6-0 lead, but the Spuds responded with a Rufus Kermee rushing touchdown early in the second quarter to tie the game.
The teams each punted on their next possessions before Mason Sabraski found the end zone on a ten yard run to make the score 14-6. However, the Spuds used a big kick return to set up another Kermee touchdown, this one a diving reception of a Jett Feeney pass from nine yards out to tie the game at 14 heading to halftime.
Things got wild in the third quarter with each team scoring a pair of touchdowns.
The Storm punted on its first drive, but saw Omoke come up with a one-handed interception to give the ball back to Sauk Rapids-Rice. Omoke himself then hauled in a 24 yard touchdown pass to give the Storm a 20-14 lead.
Moorhead again had a quick answer, scoring on their next possession when Reign Battle pulled in a 35 yard touchdown catch. The Spuds converted the extra point to take a 21-20 lead with just under five minutes left in the fourth.
Omoke then nabbed his third, and longest, touchdown of the game when he caught a 73 yard pass from Ackerman to make the score 28-21.
Battle responded for Moorhead with a 37 yard touchdown catch from Feeney with 1:25 left in the third to tie the game at 28.
In the fourth quarter, Sauk Rapids-Rice capped a nine play, 60 yard drive with a Shaun Walrath seven yard touchdown run to give the Storm a 35-28 lead.
Moorhead was pinned back to their own three yard line on the ensuing kickoff but quickly moved into Storm territory with a 63 yard run from Taye Reich. However, the Spuds ended up turning the ball over on downs with just over one minute left and no timeouts remaining after Kermee ran a 4th and 12 play for nine yards to the Storm five yard line.
Ackerman finished with 188 passing yards, Walrath ran for 123 and Omoke caught eight passes for 174 yards.
ELSEWHERE:
ZIMMERMAN 45, APOLLO 7
PARK CENTER 28, SARTELL 6
NEW PRAGUE 35, TECH 7
ROCORI 20, ORONO 16
KIMBALL 14, CATEHDRAL 12
More From 1390 Granite City Sports