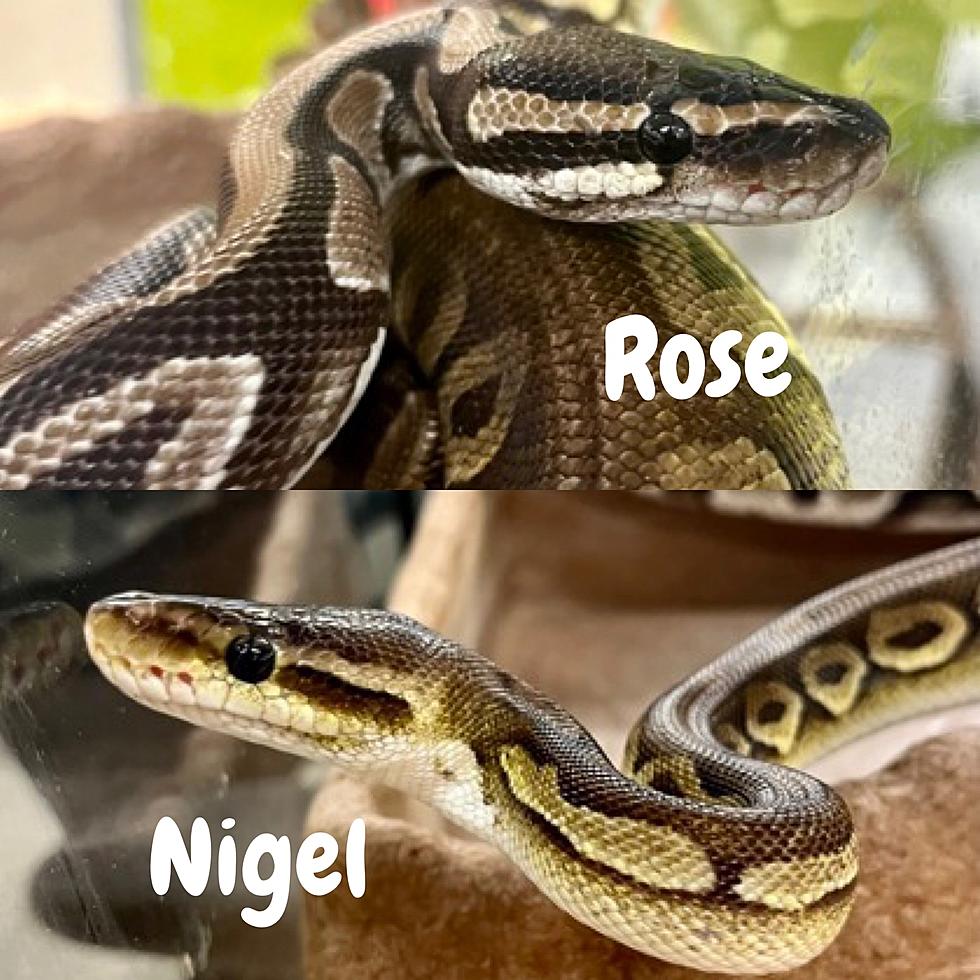 Here's Something Different for the Adoptable Pet of the Week
PHOTO: TCHS
This week, it's something a little different than it has been in the past.  And if you are someone that is possible allergic to dogs and cats, and you love to handle reptiles, these two snakes might be the perfect pets for you!
Well, at least one of them.  If you do decide that you would like to have both "Nigel" and "Rose", then you will have to keep them separated.  Fun fact, that I just found out today, if they are housed together, there is the possibility that they will eat eachother.  That's not friendly AT ALL!
But these two ball pythons are about 6 years old, and are VERY used to being handled by humans.  They actually like to be shown off and will adapt to their environment easily.  But there are some things that you do need to take into consideration if considering adoption of either of these two.
Ball pythons need a thermal gradient in their enclosure so they can warm up and cool down as needed. The recommended temperature for the warm end of a ball python's habitat is 95 F, while the cooler end should be kept around 78 F. ~~ An over-the-tank basking lamp with a heat bulb should be installed to supply radiant heat in their snake's habitat. ~~ They should be provided with 8-12 hours of UV light daily to imitate natural sunlight. ~~ Ball pythons need humidity in their environment to stay hydrated, support their respiratory systems, and encourage healthy shed cycles. The ideal humidity range for a ball python's habitat is 40% to 60%. ~~ Paper-based bedding, reptile carpet, cypress mulch, coconut husk, and aspen wood shavings are all suitable choices
Any other information on either of these snakes, or some of the other critters that are at the humane society, is available on their website.  If you would like to set up a time to come in and check these two out, or any of the other pets that are available for adoption, please just give them a call, or you can just stop in as well.
Each Tuesday, we feature an adoptable pet from the Tri-County Humane Society.
LOOK: 20 of the biggest insects in the world
Stacker
compiled a list of 20 of the biggest insects in the world using a variety of news, scientific, and other sources.
100 best albums of the 21st century, according to critics
Stacker
set out to find the best albums of the 21st century, compiling data from
Metacritic
(as of October 2022). We ranked albums according to their Metascore, which represents an aggregation of critic reviews.
More From 1390 Granite City Sports