You always save with The Value Connection and hundreds of values every single day. Here are some more extra-special limited-time savings, available at our website, over the counter at our retail outlets or by calling us at 320-258-SAVE.
---

FATHER'S DAY WEEKEND SALE
Prices in effect through Noon, Monday, June 21st.
AMERICAN DOOR WORKS
$100 general certificate for just $68.
ANTON'S
$10 certificate valid Sunday, Wednesday and Thursday toward dine-in service for just $6.
CHANNEL MARINE AND SPORT IN RICHMOND
$100 general certificate for just $72.
GOODFELLA'S BAR & GRILL IN RONNEBY
$10 general certificate for just $6.
HARDWARE HANK IN SAUK RAPIDS
$25 general certificate for just $15.
THE HISTORIC ROCK TAVERN IN GREY EAGLE
$10 certificate for just just $6.
ICKLER COMPANY INCORPORATED
Certificate for the Ickler Belt Sander -- $484.30 value for just $365.
JET'S PIZZA
$5 general certificate for just $3.
LAKELIFE SPORTS IN RICHMOND
$100 certificate OR Instant Voucher toward watersport or other products for just $60.
THE OLD CREAMERY CAFE IN RICE
$10 certificate for just $6.
PETTY BROTHERS
$25 general certificate for just $17.50.
ST. CLOUD ROX
$9 general admission seating certificate for just $5.
SOUTHBROOK GOLF CLUB IN ANNANDALE
18-hole round of golf, Monday through Friday -- $22 value for just $12.50.
18-hole round of golf with half cart, Monday through Friday -- $34 value for just $20.
TERRITORY GOLF CLUB
18-holes of golf with cart (Monday through Thursday) -- $48 value for just $34.
Weekend golf with cart (Friday through Sunday) -- $58 value for just $39.
TOPPERS PIZZA
$10 general certificate $6.
---
NEW ITEM
QUICK LANE TIRE AND AUTO CENTER
Quick Lane Tire & Auto Center is located at Tenvoorde Ford. Oil changes, tires, batteries, brakes and more. 13 Key services for your auto with NO appointment. Open Saturdays and evenings too.
$61.94 certificate for "The Works" oil change for just $49.
---
NEW ITEM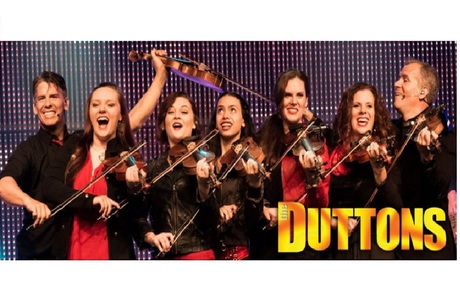 PARAMOUNT CENTER FOR THE ARTS
The Duttons are a family of three generations of musical performers. Committed to family appropriate, quality entertainment, The Duttons are dedicated to the pursuit of excellence in their musicianship, as well as their businesses. Besides the flagship business, The Dutton Family Theater, located in live music capital Branson, Missouri, The Duttons are the proud owners of several other successful businesses including The Dutton Inn and Abby's Tourist Trap ("Your One-Stop Souvenir Shop"). They also manage The Dutton Theater, in Mesa, Arizona during the winter months, tour extensively with their music show and are featured on several national and international television specials. Their latest endeavor, "The Duttons Through the Years" is a weekly series on RFD-TV that covers the 30-year career of the family as well as featuring some of their latest recordings and music videos. Whether on television or live on stage, The Duttons are the first choice for an evening of exemplary entertainment.
$35 admission to "The Duttons" for just $24.
---
NEW ITEM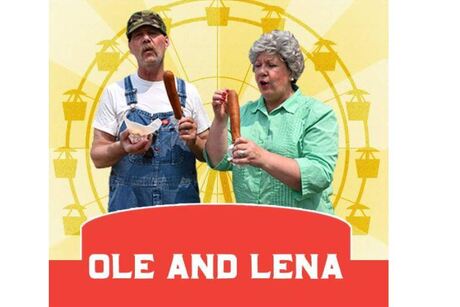 PARAMOUNT CENTER FOR THE ARTS
The calendar has finally turned over to Ole's favorite event of the year – State Fair time. Unfortunately, Lena doesn't share Ole's excitement. For years Lena has been in countless competitions with her arch-rival Elaine Danielson, always battling, only to end up with a tie for the coveted blue ribbons. But this year Lena has a new trick up her sleeve that she's sure will tip the balance in her favor. Ole, on the other hand, has his own fair surprise this year. Ole heard on CCO that Sweet Martha makes a truckload of money at the fair so Ole and Sven have decided they're going to turn the Fair into a money-making operation with a food stand of their own. Their goal is to come up with something they can stuff on a stick and get them on TV with Frank and Amelia. But when it comes time for the leave for the Fair, Lena is nowhere to be found. Can Ole find Lena in time to spring her surprise on arch-nemesis Elaine? You'll have to see for yourself at "Ole and Lena at the State Fair."
$22 admission to "Ole and Lena at the State Fair" on July 13 for just $15.
---
LIMITED TIME SPECIAL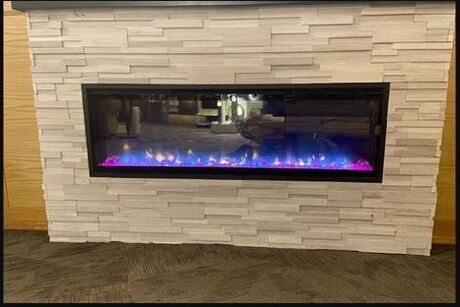 MINNESOTA LIGHTING, FIREPLACE AND FLOORING SHOWROOM
This fireplace stands apart as more lifelike and visually stunning than any other electric fireplace. With new, patented flame technology it captures the charm and ambiance of a real fire. Edge-to-edge glass offers a flawless panoramic view of the dazzling flames from any angle. At only 5.5 inches deep, and with no chimney or gas line required it is ideal for home or high rise installations.
XLF50 Linear Electric Fireplace -- $2,249 value for just $1,669.
---
SHOP THE VALUE CONNECTION WITH OUR MOBILE APP!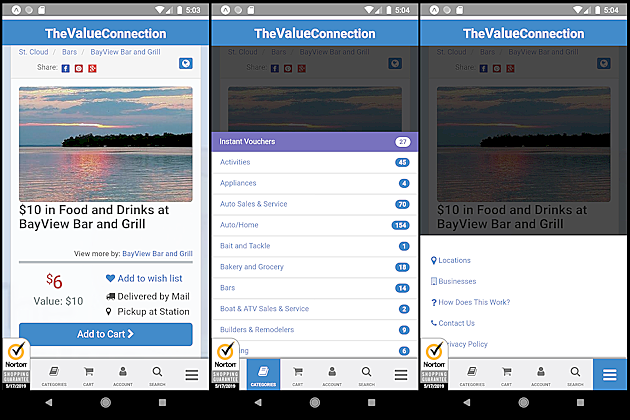 Shop easier with our NEW App! Available now for both Apple & Android phones!
Click here for more information!
---
FOLLOW THE VALUE CONNECTION ON FACEBOOK & TWITTER
Follow The Value Connection on Facebook and Twitter! Stay up-to-date on our newest items, limited time specials, on location events and more.
---
Here are several ways to order from The Value Connection:
-- Shop online at TheValueConnection.com. We'll mail certificates to you.
-- Call 320-258-SAVE (320-258-7283) to place your order. We'll mail certificates to you.
-- Buy and pick-up certificates at one of our retail outlets:
Value Connection Headquarters for Townsquare Media at 640 SE Lincoln Avenue, Monday-Friday 8-6, Saturdays 9-1.
Cash Wise Waite Park at 113 Waite Ave S in Waite Park Monday - Saturday 8:30-5. (Closed 12:30p - 1p for lunch daily)
---
Sign-up for our Value Connection Newsletter!
We'll deliver weekly specials on Monday mornings and weekend specials on Friday mid-day!
*

 Email

*

 First Name

*

 Last Name

*

 Zip

*

= Required Field
Email Marketing You Can Trust